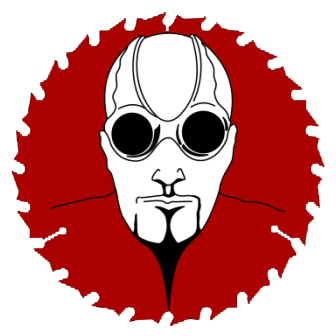 Savvas C. Koureas belongs to the new generation of contemporary artists. He was born in Nicosia on May 25, 1977. He studied at the atelier of the known artist Lefteris Economou, and then he continued his studies in the fields of 'Mechanical Engineering' and 'Design & Technology'.
Since 2002 he works as a teacher of ' Design & Technology', 'Art' and 'Design' in secondary education schools. Since then, he established his 'AnexitiloN art & design studio' in Nicosia, where he works and creates as a freelance artist-designer.
Occasionally, he participates in several local, overseas and online exhibitions. At the same time, he handles the tutoring and the organization of a wide range of cultural events. Apart from his activities in fine arts, it is worth mentioning his contribution to the underground subculture community, in which between the years 2002 to 2008 he organized more than 70 festivals – concerts - flea markets - Dj shows related to the Rock – Metal – Gothic – Darkwave - Experimental music.
In 2015, he cofounds the alternative fashion brand 'Sacred Tooth', where he designs its collections.
Speaking about the artist's work, it is expressed by painting, drawing, airbrushing, designing (product - graphic - interior) and by art installations.
According to each project, he works with a variety of techniques and means of presentation, for achieving the best possible aesthetic outcome.
His work consists of personal approaches through the fine arts, the applied arts and the philosophy of aesthetics. Whether his approaches are either conventional or avant-garde, Savvas Koureas creates without any ideological barriers, always with respect for people, history and culture.
Savvas Koureas is a member of 'E.KA.TE.' (Cyprus Chamber of Fine Arts) and he is also the secretary of the association 'Open Studios Within the Walls of Nicosia'.
Exhibitions & Presentations:
16-17/11/2019: Kustom airbrush art presentation in the '16th Boyz Stuff Show' (Cyprus State Fairs Authority, Lefkosia)
20-21/4/2019: Solo airbrush-art presentation and live body-airbrushing performance shows in the 'Cyprus Comic Con' (Cyprus State Fairs Authority, Lefkosia)
29-31/3/2019: Solo airbrush-art presentation and live body-airbrushing performance shows in the '6th Cyprus International Tattoo Convention' (Carob Mills, Limassol)
17-18/11/2018: Kustom airbrush art presentation in the '15th Boyz Stuff Show' (Cyprus State Fairs Authority)
6/10/2018: Kustom airbrush art presentation in the '6th Annual Bike Festival' (Ledra Motorcycle Club, Lefkosia)
3/6/2018: kustom airbrush art presentation in the '2nd Cyprus Classic Car Festival' (Daytona Raceway, Lefkosia)
22/3/2018: Permanent airbrush art exhibition opening (B.R.HUB, Lefkosia)
30/3-1/4/2018: Solo airbrush art presentation and live body-airbrushing performance shows in the '5th Cyprus International Tattoo Convention' (Carob Mills, Limassol)
10-17/3/2018 Group Exhibition of visual arts 'Life' (1010 Hall, Lefkosia)
3-8/3/2018 Group Exhibition of visual arts 'Life' (Aphrodite Amathusia Cultural Center, Limassol)
17-28/2/2018 Group Exhibition of visual arts 'Life' (Almyra hotel, Paphos)
2/12/2017: live body airbrush-art performance show in the '9th No_Body festival', in collaboration with the choreographer Elly Constantinou (Dancehouse, Lefkosia)
11-12/11/2017: Kustom airbrush-art presentation in the '14th Boyz Stuff Show' (Cyprus State Fairs Authority, Lefkosia)
7/10/2017: Kustom airbrush-art presentation in the '5th Annual Bike Festival' (Ledra Motorcycle Club, Lefkosia)
22-24/9/2017: Kustom airbrush-art presentation in the 'Two-Wheel Passion Festival' (Old Port, Limassol)
2-3/9/2017: Solo airbrush-art presentation and live body-airbrushing performance show in the 'Cyprus Comic Con' (Cyprus State Fairs Authority, Lefkosia)
11/6/2017: Kustom airbrush-art presentation in the '1st Cyprus Classic Car Festival' (Daytona Raceway, Lefkosia)
28/5/2017: Participation at the 'Unlimited Grief' performance, as a body airbrush artist, together with the choreographer Elli Constantinou (Dancehouse, Lefkosia)
14/5/2017: Kustom airbrush-art presentation in the '6th annual gathering of the Vespa-Lambretta clubs of Cyprus' (Nicosia Municipality, Lefkosia)
31/3-2/4/2017: Solo airbrush-art presentation and live body-airbrushing performance show in the '4th Cyprus International Tattoo Convention' (Carob Mills, Limassol)
9/12/2016: Live body-airbrush art performance show (Moondog's, Lefkosia)
19-20/11/2016: Kustom airbrush-art presentation in the '12th Boyz Stuff Show' (Cyprus State Fairs Authority)
19-23/10/2016: Group exhibition of visual arts (Severis Foundation, Lefkosia)
1/10/2016: Kustom airbrush-art presentation in the '4th Annual Bike Festival' (Ledra Motorcycle Club, Lefkosia)
13/8/2016: Live body-airbrush art performance show (La Playa, Paphos)
14-21/9/2016: Group exhibition of visual arts, organised by the 'Cyprus Association of Mikra Asia' (House of Arts & Letters, Limassol)
18/5-9/9/2016: Group exhibition of visual arts, organised by the 'Cyprus Association of Mikra Asia' (Gallery of the Holy Archbishopric of Cyprus, Lefkosia)
1-3/4/2016: Solo airbrush-art presentation and live body-airbrushing performance shows in the '3rd Cyprus International Tattoo Convention' (Carob Mills, Limassol)
20-28/2/2016: Kustom airbrush-art presentation in the 4th annual exhibition of the 'Vespa Club of Cyprus' (The Mall of Cyprus, Lefkosia)
15-18/12/2015: Solo 'Airbrushing & Alternative Arts' exhibition in the 'Pop UP Festival' (City Plaza, Lefkosia)
14-15/11/2015: Kustom airbrush-art presentation in the '11th Boyz Stuff Show' (Cyprus State Fairs Authority, Lefkosia)
8-12/11/2015: Group art exhibition organised by the 'Pancyprian Association of Single Parent Families' (Nicosia Municipal Multipurpose Centre 'Pallouriotissa Old Market')
26/9/2015: Life graffiti performance show in the 'Imagine the Roads Festival' (Aglantzia Municipality, Lefkosia)
17/5/2015: Airbrush-art presentation in the 'Altstadt 3 – VolksWagen Car Show' ('Famagusta Gate', Lefkosia)
3-5/4/2015: Solo airbrush-art presentation and live body-airbrushing performance show in the '2nd Cyprus International Tattoo Convention' (Carob Mills, Limassol)
15-16/11/2014: Kustom airbrush-art presentation in the '11th Boyz Stuff Show' (Cyprus State Fairs Authority, Lefkosia)
25/10/2014: Live body-airbrush art performance show in the 'Pediaios Happening' (Dancehouse Lefkosia)
5-7/9/2014: Solo airbrush-art presentation in the 'Flying Away Festival' (Orfeas Stadium)
17/8/2014: Kustom airbrush-art presentation in the '1st Annual Motorbike Contest' (Ayia Napa)
1/8/2014: Airbrush & graffiti art presentation and live performance show in the 'Street Art Show' (Ερμού 261 rock bar, Lefkosia)
14/6/2014: Kustom airbrush-art presentation and performance in the '2nd Bike Festival' (Ledra Motorcycle Club)
6-8/6/2014: Solo airbrush-art presentation and live body-airbrushing performance show in the '1st Cyprus International Tattoo Convention' (Ajax hotel, Limassol)
1/5/2014: Kustom airbrush-art presentation in the 'Motorbike Festival' (Mare Lounge Bar, Larnaca)
30/05/2014: Artist's presentation named 'Fine Arts presentation of the Morphou Area' (Ministry of Education hall)
1-30/04/2014: Group exhibition of visual arts 'Last Minute' ('Lock Stock n' Barrel', Lefkosia)
9/12/2013: Airbrush-art presentation in the 'Arts Career Fair 2013' (The English School Nicosia)
16-17/11/2013: Kustom airbrush-art presentation in the 'Boyz Stuff Show' (Cyprus State Fairs Authority, Lefkosia)
6 - 8/9/2013: Kustom airbrush-art presentation in the 'Flying Away Festival' (Orfeas Stadium, Lefkosia)
3-10/03/2013: Group exhibition of visual arts 'KNOW NOW' (Vladimiros Kafkaridis Cultural Center, Lefkosia).
12/12/12 – 12/01/13: Group exhibition of visual arts '12-12-12' ('Elefsis' Cultural Association, Lefkosia)
19/9 - 31/12 2012: Solo art mural & graffiti exhibition (Larnaca Airport Entrance)
27 - 30/10/2011: Solo participation in the cultural event 'Open Studios within the walls of Nicosia'.
22/2 - 4/03/2011: Group exhibition of visual arts ('Toufexis' gallery, Lefkosia)
2-5/09/2009: Photographic exhibition organisation and presentation named 'Asomatos, far from memory…' for the 'Asomatos Women Association' ('Castelliotisa' hall, Lefkosia)
25/10 - 2/11/2008: Solo participation in the cultural event 'Open Studios within the walls of Nicosia' ('AnexitiloN' Art & Design studio)
16/11/2007 - 04/05/2008: Solo participation in the cultural event 'ΥΚ:ΕΜΧ – Artists Self Portraits' ('Nicosia Municipal Arts Centre')
9 -10/12/2006 Solo presentation of the slide show work 'SARCOPHAGUS FURORES' ('Ant Comics' shop & 'Oktana' café-bar, Lefkosia)
1 - 12/11/2006: Solo participation in the cultural event 'Open Studios within the walls of Nicosia' ('AnexitiloN' Art & Design studio)
5 - 30/09/2006: Photographic exhibition organisation and presentation named 'Christian Monuments in turkish-occupied Cyprus' for the 'Museum of the Holy Monastery of Kykkos' ('Famagusta Gate', Lefkosia)
29 - 30/05/2006: Solo participation in the cultural event 'Nicosia Arts Festival' ('Castelliotisa' hall, Lefkosia)
05/03/2005: Solo presentation of the art installation 'Freakie Out' in the cultural event 'Pixel This'. ('Pantheon' gallery, Lefkosia)
31/01 - 02/02/2005: Solo participation in the cultural event 'UNCLAIMED LUGGAGE' at 'Circulo de Bellas Artes' in Madrid, Spain, as a member of the Cyprus team.
23/09 - 03/10/2004: Solo participation in the cultural event 'Open Studios within the walls of Nicosia' ('AnexitiloN' Art & Design studio)
22 - 26/07/2004: Group exhibition of visual arts ('SPE Aglandjas Cultural Centre', Lefkosia)
22 - 23/05/2004: Solo participation in the cultural event 'Nomadifesta' ('Castelliotisa' hall, Lefkosia)
03/12/2003: Jewellery-design presentation in a fashion show ('City Plaza')
14/11/2003: Solo jewellery-design exhibition ('Pantheon' gallery, Lefkosia)
16 - 25/05/2003: Solo participation in the cultural event 'Open Studios within the walls of Nicosia' ('AnexitiloN' Art & Design studio)
11/1998 Group exhibition of contemporary design ('Egg Design Center', Lefkosia)
13/07 - 13/09/1998: Solo exhibition of visual arts ('Mbriki' cafe, Lefkosia)
21 - 26/06/1994: Group exhibition of visual arts ('Opus' gallery, Lefkosia)
03 - 13/03/1994: Group exhibition of visual arts ('Famagusta Gate', Lefkosia)
10 - 17/03/1992: Group exhibition of visual arts ('Melina Merkouri Hall', Lefkosia)
05 - 15/02/1991: Group exhibition of visual arts ('Famagusta Gate', Lefkosia)